A synchronistic series of events led us here, to Cyprus. The island called us here, call it what you will, but here we are since December 2013. Our home is in Stroumbi, up in the hills with the sea in three directions; north to Polis, south to Paphos and west to Peyia.

All my life I have wanted to live in the Med. The seed sown in my young years, for foreign places, matured into a realisation that I was deeply at home in the Med, and a fish out of water in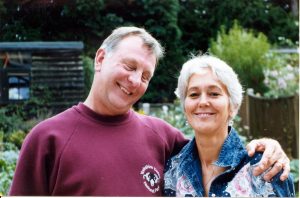 England. My being there was one of the mysteries of my life. I never felt a sense of belonging, connection at all. And I did not understand how I had been apparently unable to manifest a suitable move, given all that I experienced about manifestation, creating with desire.

Just when I had finally accepted that it was not going to happen – well that's the point of surrender isn't it? That's when the Universe can come up trumps.
Cyprus was not on my radar. I did not want to come. In fact at the time I had my sights set on a holiday in Italy, but friends insisted that we use their new holiday home, and it was bordering on rude to decline any longer. So our first visit in April 2012 was enjoyable, so much so that we came back in September that year. Then in April the next, and it was then that a tiny seed was planted. We wouldn't, would we? We might, other people do!

And then we did. And here we are.
Before we came
We'd been in Gloucestershire more than a decade and during that time I became a Yoga teacher. Trained in the Iyengar style, I then explored a number of different kinds and particularly enjoyed the approach of 'Yoga Untraining' as inspired by Angela Farmer and Victor van Kooten. Aromatherapy and Reflexology qualifications were gained in 1993, followed by Heart Awakening, then MyoFacial Release.
I enjoyed a two-year course in Natural Nutrition, which remains an interest, though I have did not chosen to further these studies towards any qualification. Perhaps the depth of knowledge gained was be enough for me.
In 2004 I met Robin and Cody Johnson, founders of The Prophets Conference, and enjoyed volunteering at their conferences. This led to working closely with Robin, handling enquiries and registrations, and generally lending my support administratively.
I published my first book in 2005, From Victim to Victory, and have a second book A Choice in Every Moment awaiting some final attention.
My Path has been one of diving deeply into various disciplines so that I know them from the point of view of a practitioner. I now draw together all the aspects that I know, to share what I have learned.