Under My Skin
As David wrote his childhood stories and I typed them up from his handwritten pages, we became more and more aware how different life had been, growing up in the 1950s. No iPads, mobile phones, just a simple life largely outdoors.
Later as he recalled his early adult life I enjoyed learning a little more about him, and then we recalled happy shared memories over coffee as the story grew.
We both had the same basic idea for the cover, brought into being by a friend who shared many of David's outdoor passions.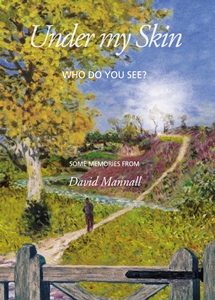 Under My Skin –
Some Memories from David Mannall
Available on Amazon as an e-book and as a paperback.
(Also available on other Amazon marketplaces, or as an e-book.)
If you live in Cyprus, please contact me, as I keep stock here.
David's book about growing up in 1950s England, his introduction to Angling, his passion through the years, and the sharing of the things that shaped him as a man. A gentle read, beautifully told.
from the Back Cover
Country boy from the prefabs to General Manager of a world-wide company, David tells his story of growing up in the 50s, and how his experiences shaped who he became. Angling has been his life-long passion from an early age through to his key role at Horseshoe Lake Fishery in Lechlade, Gloucester, where his vision saw a Centre of Excellence. He conceived the idea of the Lodge to provide a Clubhouse and kitchen for events, a tackle shop, and the admin offices, and he was responsible for its creation from inception to completion.
He loved sports of all kinds, long walks, little rivers, bird life and nature in general. His passion for fishing embraced many species in a number of countries. His humanitarian beliefs led to a cross-country trip to The Gambia and further travel brought spiritual quest.
But it is perhaps his humanitarian and political beliefs and his connectedness to the Other Worlds that shaped the man.
'Under My Skin' began as a few little stories to leave for his sons and granddaughters, things they wouldn't know about him when it would be too late to ask.